We have tonneau covers from some of the most-trusted names in the business, including Retrax, A.R.E., and Access, which means that when you buy a tonneau cover from American Topper & Accessories, you will have a bed cover that is strong, looks great, and is built to last. We have tonneau covers that roll up, lift up, or fold up, in order to give you access to the tools or other items that you have stored in the bed, and many of them are available in different colors which you can use to accent or match the paint color of your truck.
We have a large number of truck accessories, including LINE-X bed liners and protective coatings, truck toppers, and commercial truck and van equipment. Whether your work truck needs to be better organized or you want to protect your gear when you travel for camping or outdoor fun, we would like to help.
Contact us today for a free estimate on all of the truck accessories, including tonneau covers, that you need. For the best prices, customer service, and selection, contact us or stop by today. We would love to help you find everything you need to make your truck more useful.
---
A.R.E. LSII
Fitted to your truck's make and model, this best-selling tonneau cover series is loaded with premium components and an innovative lift assist system that makes opening and closing a breeze.
---
A.R.E. LSX
Multiple adjustment points and the LSX Ultra E-Lock are what make this series so popular, as they make your truck bed easily accessible to you, while protecting it from everyone else.
---
 ACCESS Vinyl roll-up covers
Made to fit as tightly as possible, these roll-up covers give you all of the protection of hardshell covers without the hassle. Adaptable and sporty, it is made to fit all truck models.
---
RetraxOne retractable cover
Strong and sleek, RetraxONE is the leading retractable bed cover for a reason. Secure and easy to use, it is made up of polycarbonate and boasts a sealed ball-bearing roller design.
---
RetraxPro Retractable cover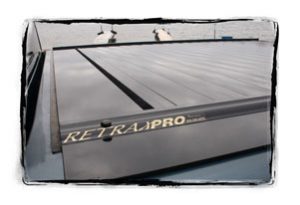 RetraxPRO Features & Benefits:
Made of industrial aluminum, RetraxPro has a low-profile design that provides next-level security. It requires no maintenance and is completely protected from UV damage, ensuring its longevity.
---
Please don't hesitate to get in touch with us today to find out more about the tonneau covers we have for sale. For the widest range of truck accessories, including Line-X protective coatings, tonneau covers, toppers, Green Mountain grills, and so much more, always remember American Topper & Accessories. We look forward to hearing from you soon.